MEET OUR DEDICATED TEAM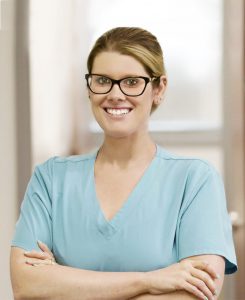 Hannah Ruxton – Retail Manager & Bariatric Marketing Director
Hannah was born and raised in Southern Virginia and recently moved down to Florida after living here previously when she was younger. Aside from being the biggest Disney fan, and spending every weekend there with her family, she also has a strong passion for helping bariatric patients walk through their journey. She is a bariatric patient herself and went through her own journey in 2019 after having the Sleeve Gastrectomy. She continues to be a success story for patients considering weight loss surgery.
---
Kelly Range – Nurse Practitioner
Kelly was born and raised in St. Petersburg, Florida. She received her Bachelor of Science in Nursing from Florida State University. Kelly completed her Master of Science as a Nurse Practitioner at the University of South Florida. She worked with Dr. Huguet in the ICU and the surgical recovery unit for several years prior to becoming a nurse practitioner. Kelly provides education and support to bariatric patients and their families. She strongly believes that a holistic multidisciplinary approach to weight loss is the key to success. She serves as a coach and a warm heart for patients throughout their journey to weight loss. Kelly's favorite part of nursing is helping patients reach their goals and celebrating together.
---
Carlee Freed – Physician's Assistant
Carlee was born and raised in West Palm Beach. She obtained her Bachelor of Science degree from the University of South Florida where she graduated cum laude majoring in Health Sciences. She graduated with a Master of Medical Science degree in Physician Assistant Studies from the University of South Florida. Carlee works with Dr. Huguet directly in surgery to assist with all bariatric operations. She sees patients during hospital rounds and outpatient clinics. She loves interacting with patients and looks forward to hearing about their progress as they follow up in the clinic. In her free time, Carlee enjoys being social with her friends and spending time with her cock-a-poo.
---
Other MIIS Staff Members Include
Bariatric Exercise Physiologist
Expert-Trained Dietician